The following appeared in the Tyson Foods, Inc., company newsletter in December 2001:
'Dead Fred' Lifts the Living
When Joe Bott, of Research and Development at Tyson's World Headquarters in Springdale, was in the Navy 35 years ago, he developed a hobby to pass the time when his ship was in various ports. Joe started scouring antique shops and flea markets for old photographs, a passion he still pursues today. About three years ago, Joe decided to explore the history of his own family. His library and Web searches yielded reams of information, but very little about genealogy photography. Joe recognized a need.
A couple of years ago, Joe found a photo of a mother with her child. The photo was taken about 1900, and the name on the faded shot was "Griegson." The baby's name was William. Using on-line databases, Joe was able to track down the son of that baby. Joe called the man and told him he had a photo of his father and grandmother. The man was dumbfounded; saying he didn't even know the photo existed! Joe sent him the photo.
It soon dawned on Joe that maybe there were more "Griegsons" out there who might appreciate old photos of their families. Joe combed through his 14,000 photographs searching for those that were identified by name. With a few thousand, give or take, named photos, Joe knew the task of searching out the descendants would be way too time consuming. Instead, he placed a few on his AOL Web site. Eventually, Joe contacted a Web site design agency, Vulcan Creative Labs, to help him develop a more elaborate site. The result was "Dead Fred's Genealogy Photo Archive," also known as DeadFred.com.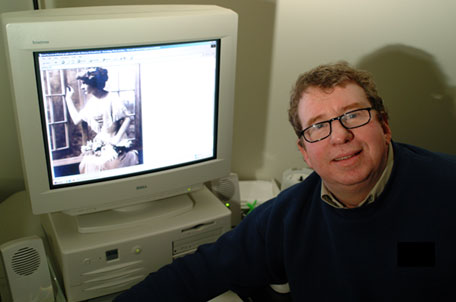 Joe shows one of his collected photos
Dead Fred was introduced on March 16, 2001 with more than 2,000 identified photos. Just eight months later, the collection contained more than 11,000 photos, many of which were uploaded by people from all over the world. Not all are fully identified by name. Those that are identified by first name, country, state, town, or photographer are filed in the site's mystery section.
With the server fees being paid by donations and Genealogy Magazine sales, Dead Fred is a free archive designed specifically for people looking for pictures of their relatives and people who have old photos of their relatives to share. The original photos belonging to Joe, or if the donators are willing to share them, are available to people for the cost of the postage, or they can simply download the shots.
Naturally, Joe is always looking for additions to his archive and loves it when a mystery is solved and a family gets to see distant relations for the first time. Dead Fred isn't going to make Joe a wealthy man or shape the future of the world. As Joe says, "It's simply a genealogy lost & found for old photos."